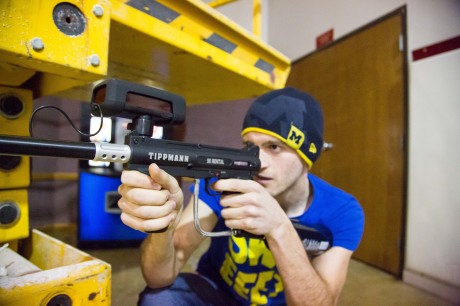 Paintball - Reball - Laser Tag
Paintball is a sport everyone loves and gets excited to play. Load up your marker with 200 rounds of paint, and get a little messy! We have bunkers to hide behind, and we'll provide you plenty of friends to mark with paint, all in a Christian setting. Reball was developed in Europe as an alternative to traditional paintballs. This allows the sport of Paintball to be played indoors during months where outdoor play would otherwise not be available. Laser Tag is a team or individual sport or recreational activity where players attempt to score points by tagging targets, typically with a hand-held infrared-emitting targeting device.
Swimming Pool
After officially opening in the summer of 2013, our swimming pool is quickly becoming one of our campers favorite activities. With a Vortex slide, splash pad, volleyball net, and two water basketball hoops, whats not to love?
Zipline
The famous Bay Shore Camp 4-run Zipline. Take a ride down with 3 of your closest friends, and then do it all over again.
Gaga Ball
This is a dodge ball below the waist. The game stays in the octagon arena where you have to try and dodge the underhand hits from other players. If you're hit by the ball you're out for the round. But if the ball gets hit out of the arena, you can catch the ball and get back in the game. Another game that is just as much fun to watch as it is to play.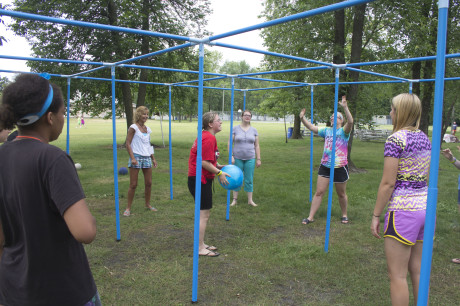 9-Square
4 square meets volleyball. 9 players step in the grid and move in a spiral towards the middle square. Volleying the ball from player to player you have to be sure not to touch the ball twice in a row, have it fall in your square, or hit it out of the grid. This fast pace moving game gets everyone involved and is a blast!
Mini-golf
Our 18-Hole Biblical Themed Mini-Golf course will take you through the bible while visiting the Tower of Babel, Goliath, Noah's Ark, and even the Birth of Jesus. There are water features throughout the course, and during the summer you can even find animals like frogs and ducks in the pond.
Inflatables
From the bungee run to the bounce house our inflatables offer something for everyone of all ages. Have fun racing through the obstacle course or battling it out with the jousting. Inflatables provide endless entertainment.
Canoeing
Grab your friends and head out to the point. From there you will be able to launch out with a canoe and a paddle and spend some time on the Saginaw Bay. Make sure not to forget your sunscreen, of you may end up with some funny looking tan lines.
Crafts
Sometimes you just have to get your hands a little dirty and have fun making something to take home. From Teddy Bears at Teddy Bear Camp, to Tie-Dye shirts there is sure to be no shortage of fun staff for you to take home.
Barrel Train
All Aboard the Bay Shore Barrel Train! The conductor will take their passengers around parts of camp while adding some fun as well. Each barrel sits one person so climb in and away we go!
Climbing Wall
Test your body strength as you climb to the top of our 25 ft wall. Using an auto belay system, you're challenged to used your own strength to get to the top.
Carpet Ball
The game of pool meets shuffleboard. Two opponents go against each other to see who can knock the other's pool balls into the pocket before the other one does. A lot of fun to play and just as much fun to watch!
Praise & Worship
Every night is an experience like no other at Bay Shore Camp. You'll be able to spend time in God's Word, and sing songs to praise Him. Each camp dean brings in their own worship team to lead you in praise & worship.
Making New Friends
Most summers we have over 1,200 campers here at Bay Shore Camp, you're bound to make friends with one of them. But don't worry, we will send you home with their phone numbers so you can give them a call to hang out!